Welcome
Back in 1990 our collective story started with a marriage.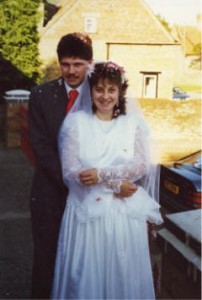 10 years later this marriage became the historical link between two very different families and our family story started to be told to the latest generations.
Our names are Jamie and Sue Lawrance (nee Haver) and this site is dedicated to our histories.
In March 2000 Sue and Tom Chambers (Jamie's Grandparents) celebrated their 60th wedding anniversary. This was preceded in January by an idea to give them an unusual anniversary present, their family histories. Our new hobby of genealogy slowly took over and our research is still ongoing.
Before the year was out our new found detective skills were hijacked to investigate the pictorial history of Morton and Hanthorpe. Our interest was piqued and a second hobby of local history was founded.
During our researches we have had the privilege of diversifying and investigating some military history. This was caused when the simple and harmless question "What did my Grandfather do in the war" was raised. A suitcase of photographs and a trip to Austria soon gave us an answer.
Recently a comment about the men of Morton who died in the Great War set us on another history trail and our research into the Morton men can now be found on this site. The research into Morton was extended and now this site contains the the men from the surrounding villages as well as our town of Bourne.
As all genealogical researchers will know, research is always ongoing and this web site will develop as new leads are investigated. Please check back regularly to see our latest findings.
All research on this site has been carried out by us, both at archive centres around the country and from primary sources on-line.
Who knows what direction our researches will take next. I suppose it depends upon what questions need answers.
 

Latest Updates

On the 100th Anniversary of the death of each of our local men in WW1 arrives, we will be posting updates to their stories on the respective pages on this web site.

Their stories will also be told on the Morton WW1 facebook page @MortonWW1